Puget Sound Area Homeowner Testimonials
Good Feedback
Janes Radiant Heating has been proud to bring residents all around the Puget Sound the comfort and savings that come with radiant in floor heat. Our team works hard to bring you the highest quality systems, the highest quality installation work, and the highest quality follow up and maintenance work that there is to offer. We are happy to serve the entire Puget sound area. Hear from some local homeowners who Janes Radiant Heating has worked with:
"Thank you so much for all of your detailed attention to the system of radiant floor heating that Janes Radiant Heating installed. We are very happy with this type of heat and we feel we chose the best company for the job. Anyone who has ever seen our mechanical room is awed and impressed by how compact and well-placed every part is."
Karen
"I am extremely impressed by your radiant heating unit. The unit exceeded my expectations. It is very well built, looks nice and was easy to install and operate. The installation manual was easy to follow. In no time I had a heated shop floor. There has already been interest in the system I purchased from you by people visiting my shop."
Charles, Beaverton, OR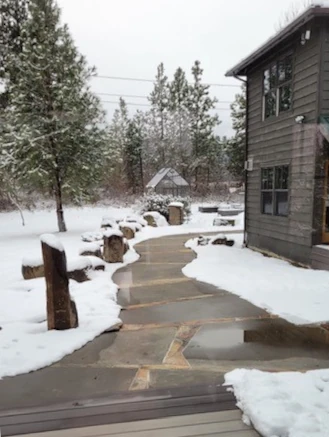 "Back in September 2021 I ordered a radiant heating package from Janes. My purpose was to heat my new concrete walkway being poured at my home in Cle Elum WA.
Bob personally delivered my package to my home.
I spent the next two and a half months being frustrated with a local Cle Elum contractor who continually promised to finish the install and conduct the initial start up of the boiler.
At my wits' end I called Bob again and 2 days later he had his key guy Shawn drive over Snoqualmie pass to complete the install.
I should have stuck with Bob to begin with, but I thought a local contractor would be more available, wrong!!
Bob came in and made it happen and now 2 weeks before Christmas I have my walkway completely free of frost snow and ice.
I can highly recommend Janes Radiant Heating."
Brian P.
"Your men were good to work with and put out an excellent product. They even helped clear the access road where four trees had fallen on that windy day! Thanks again."
Brad, Everett, WA
"Just a note to tell you how much we love our Janes Radiant Heating System. If you recall, my intentions were to install the radiant system as a supplement to our existing forced air system. Our house has wall to wall carpet and one half of the basement is an unfinished crawl space — which is where I installed the tubing. The objective was to just warm up the floors on the half of the house where we spend most of our time. We were hoping that the system would be effective even though our floors were carpeted. To our surprise and delight we've found that the radiant system has made our entire house far more comfortable and cozy than it has ever been during these Wyoming winters. And so far, even though temperature have often been below zero, we've never once had to turn on the forced air heating. The Janes system keeps the entire house at 68 to 70 degrees. And I've noticed no significant change in my utility bills. Additional perks are that our bed is always comfortable as a result of the radiant heat. Normally, at this time of year, we would be using electric blankets and turning them on two hours before going to bed. But so far this year we've never needed anything but a light cover.
My boiler usually runs at about 12 to 18% flame. The system is perfectly quiet. (And that is a major improvement over that noisy forced air system.)"
Ron, WY
"Just wanted to let you know that we are loving our radiant system and have referred you to a few clients already. Thank you for your work."
Christine & Mikel
"While it should be the norm to get good service, it's often not the case so it's refreshing to find companies there such as yours that still provide excellent service. I normally don't write letters like this, but felt that deserved the recognition."
Henry, Sammamish, WA
"I would like to express my sincere appreciation for the professionalism which I received from Janes Radiant Heating at all points of my heating installation."
Mike, Kent, WA
"My husband and I wanted to take the time to send a big "Thank You" to Janes Radiant Heating. Last Friday afternoon our boiler stopped working…complicating things for us was the fact that my frail 86 year mother is visiting and we were very concerned that she would have to spend the weekend in a cold house. We were pretty sure our chances of getting a technician out to Whidbey Island on a Friday afternoon with short notice were slim and none. Apparently miracles do happen when you call Janes Radiant Heating. Your technician, Dennis, sat through a two hour wait in the ferry line to come and rescue us. Even though it was the end of his work week he was clean, professional, patient with our questions and very courteous to us. Better yet, he had the necessary part on his truck and had the heat up and running before he left. My mother commented that this is the best service she has ever seen! In this day and age, great service is hard to find and we sincerely thank everyone at Janes Radiant Heating for going the extra mile for us. We look forward to your company providing our service for years to come."
[name withheld], Whidbey Island, WA
"A huge thanks to Janes Radiant Heating for their generosity and taking care of our heating needs over the years"
Matt, Langley, WA
"Wow. Super fantastic, hard working, efficient, skilled, gets along with everyone, just amazing. Thank you."
Sharron, Hot Springs, AR
"We just moved back into the house and are already enjoying our new heating system. Thank you guys for your work and we are sure we are going to enjoy it more and more!"
Patty, Seattle, WA
"Kathy and I want to thank you for your prompt response to our matter. Once again, Janes Radiant Heating comes through with flying colors. Thanks again."
Dick, Tacoma, WA
"Janes Radiant Heating had exactly what we needed in order to complete our radiant heat project. The choices in products and the ability to customize our own radiant heat kit made this process much more fun and easy than we expected!"
Kirk, Redmond, WA
"We had such a pleasant experience with Janes Radiant Heating that we had to send a huge thanks! We would not be enjoying our new heated floors if it wasn't for the knowledge and help of your staff."
Karla, Federal Way, WA
"I look forward to recommending Janes Radiant Heating to anyone who I hear is looking into an in-floor heating system. Their service, knowledge and quality of work was very impressive!"
Bruce, Issaquah, WA
"Unlike many contractor experiences we have had, we felt a real concern and regard for our individual project which was truly appreciated. Thank you!"
Denise, Seattle, WA
"We wish to express our sincere thanks to Janes Radiant Heating and in particular Jeremy for the evaluation of our heating system. Jeremy not only gave us a timely, detailed and knowledgeable assessment, but was very honest & candid in his appraisal, a quality sometimes difficult to find in today's world! Jeremy was recommended by a good friend & we hope to be able to pass the recommendation on as the opportunity arises. Once again, thanks so much!"
John & Janet, Fox Island, WA
"I am writing to tell you how much I appreciate two of your employees, Janelle and Tom.

On Friday morning January 2nd I discovered – by chance – that hot water was flooding my basement. My neighbor determined that it was coming from the heating system, due to a rusted valve on the boiler; so I knew who to call.

When I spoke with Janelle, she wasn't sure if a service technician would be available that day, but would call me back when she knew more. She must have detected the distress and panic in my voice (or maybe it was obvious) and called back in an hour or so to say that Tom would come in the afternoon.

He was on the 3:00 o'clock ferry and cheerfully spent some hours of his holiday weekend Friday night putting Humpty Dumpty back together again – no small feat – making me feel secure again.

Just thought that you should know that you have some fine people taking care of your customers."
Caroline, Freeland, WA
"Dennis showed up at our house on Whidbey Island yesterday morning to do what was supposed to be a standard annual service. Dennis has been servicing our in-floor heating system since it was installed 16 years ago.

Before Dennis even got started he mentioned that he had a full day, and then some, with two more stops in Coupeville and another one in Anacortes. Unfortunately what was supposed to be a routine clean and service our oil boiler turned out to be anything but. Before Dennis was done we discovered a leak in a 1/2″ copper line, an expansion tank that needed to be replaced, an aquastat controller that needed to be replaced and a pressure relief valve that was questionable.

Given Dennis' busy schedule he could have blown me off somewhere along the line, and possibly come back later, although most of what he uncovered was essential to the proper functioning of our in-floor system. Dennis dove right in to fix the additional problems that he had uncovered. When Dennis left our system was in great shape. However, his schedule for the day was shot, through no fault of his own.

This is what my wife and I have appreciated about Dennis over the years. He really goes the extra mile to make sure that when he leaves a service call all aspects of our in-floor system are operating correctly. Dennis is like a doctor that one has come to trust. You just don't want to deal with anyone else. He truly is our "go to" guy when it comes to our heating and hot water system.

You are fortunate to have such a conscientous and hard working person on your payroll."
Dick, Coupeville, WA
"I would like to commend Jake for providing timely and effective professional service during the recent period of bad weather.

On the evening of 16 December, I had been on the phone with Jake trying to diagnose why our boiler was emitting fumes and smoke into the equipment room. However, even with his guidance and expert advice I still was unable to make it burn cleanly, so that night we decided to turn it off. The next morning I called your office, but because of weather conditions, no promises could be made as to when anyone could make a service call.

An hour or two later, Jake appeared at our front door to diagnose and fix the problem. He said his office had told him that we were without heat and he decided that he couldn't let that continue. In a short time he had determined that there was a persistent water leak in the heat exchanger. He cleaned the boiler completely and, to our immense relief, got it running safely until a final solution to the problem could be found.

He was fully knowledgeable about options and said he would discuss the situation with Nikki and Jeremy to see what could be done. Soon Jeremy called to arrange the next steps for returning reliable boiler service to our home.

Although the old boiler irreparably failed on the 26th, on 29 December Jake switched out the old boiler and installed the new one in record time and had us smiling with delight that our heating problems were finally solved.

Over the years I have been provided a wide range of customer service from a variety of companies, too often mediocre at best. As your firm's owner I am sure you would like to hear about Jake's excellent customer relations and service as well as the good work of others in your company."
Lee, Clinton, WA
"I'd like to take the time to share with you my experience with your company over the last few months. I was quite unfamiliar with the workings of an in floor heating system, but since I've had an issue with air in my system I've learned quite a bit.

What could have been a frustrating or stressful situation was made much easier to handle thanks first to Nikki and then by Dennis. First of all, Nikki has been extremely patient and helpful throughout from helping schedule troubleshooting calls to trying to get my tank change out expedited. I'd be the first to admit I'm a "high maintenance" type of person, but Nikki has helped to ease my anxieties about the issues I've been having.

Secondly, I also truly appreciate Dennis' professionalism and thoroughness in helping me troubleshoot my problem and explain the issue to me in lay terms so I knew exactly what was going on. He took the time to rule out leaks in the floor (thank goodness!) and pressure tested the entire system until he found the problem to be in tank. By taking the time to explain what he was doing and what he found, it gave me peace of mind and that's something that's hard to do these days when working with service oriented companies.

While it should be the norm to get good service, it's often not the case so it's refreshing to find companies out there such as yours that still provide excellent service. I normally don't write letters like this, but felt that both Nikki and Dennis deserved the recognition.

I look forward to having my new tank installed and haveing a nice and toasty home as winter arrives."
Henry, Sammamish, WA
"I now owe you and your company a letter of appreciation for the effort to correct the problem we have had with our system. On Tuesday your very competent installer arrived with our new water heater. After the installation all parts of the system were checked and corrections made or replaced which were found to be faulty. For the first time we have water that is as hot as we expected and is always hot not hot and then only warm. The old heater was running constantly and still not hot at highest setting. The tiled floors are beginning to be more comfortable in the dining room and master bath. We have 2 couples planning on building here and the first question they asked us is, "How do you like the in floor heat and would you do it again?" We now will be able to give them a good report of satisfaction. My compliments on your fine employee's work and customer courtesy and attitude to do the best for our comfort and satisfaction."
Jeanne and Bob, Greenbank, WA
"This letter is to recognize Jeff for excellent service during the upgrade of our domestic heating system. Because of substandard pipefitting work that was out of his hands, Jeff returned promptly to refit faulty welds and thoroughly recheck the system and provide detailed instructions for future maintenance. He is courteous, knowledgeable and efficient, and his work is of high quality. We specifically request Jeff be assigned to any future maintenance or repair services at our home."
Eric and Anne, [location withheld]
"Thank you very much for meeting with Sue and me yesterday to review our Infloor radiant heating system. We are very pleased with the performance of the installation to date. We now better understand how to adjust the system via the manifold – and with our understanding of the system configuration in the mechanical room. We are confident that we can better "self-diagnose" any basic issues that may arise before the need to arrange for a service call. We would be pleased to provide a recommendation of your products and services to prospective customers if the need arises."
Jeff and Sue, Woodinville, WA
"First of all, thanks for doing everything you can for us to have heat and hot water in the house again! Appreciate everything you did all throughout this process, educating me on the advantage of the model that you recommended and the disadvantage of simply replacing the same boiler that we had. The service you provided is just excellent! I would also like to recognize the superior work that Jeremy did in the installation of the new boiler. Finding the right spot on the wall without impacting the existing space that we use for storage demonstrates his experience in this line of work."
Tess, [location withheld]
"I want to thank you for forwarding me the check for the defunct Amtrol tank. I'd especially like to thank Dawn for putting up with all of my phone calls and for negotiating the bureaucracy at Amtrol in order for them to make good on their warranty. I'd also like to thank the installer who did an excellent job removing the defunct tank and replacing it with the new one. Your attention to the needs of the customer will only strengthen your reputation over time and build the kind of satisfaction that will keep old customers coming back and new customers building your fortunes for the future. You can be sure I'll be recommending Janes Radiant Heating to any and all who seek your services."
Robert, Bremerton, WA
"Thank you again for your assistance yesterday & arranging for Dennis to come to the rescue! What an amazing bit of luck he was on this side of the water & had a cancellation! He was wonderful as were you! And I'm extremely pleased to report…the house is warm this morning! An absolute delight! The parrots are playing quietly upstairs as I type & everyone is thrilled to experience the luxury of heat once again because of you! Again thank you to you & Dennis. We have a very happy household over here. Good Thanksgiving Day wishes tomorrow."
"I can't say enough about the great system you put together. The design layout, booklet manual & tech. phone advice made the project an easy job! The warm floor heat can not be beat! I will recommend this system of heat & Janes Radiant Heating to anyone looking at radiant heat. "
John, [location withheld]
Janis, Chimacum, WA
"I can't tell you just how much we like our new heating system. I was skeptical when my husband first proposed it. It seemed to me it was a long shot to work under an existing floor…plywood, linoleum, cement and tile. Our home has high ceilings and lots of glass which even with two forced-air heaters, winter comfort was becoming a rare occurrence. Now I'm saying, hum, can we extend into our living room and dining room? What a joy it is. Also our installer found your installation manual easy and helpful to follow. We also all appreciated your telephone assistance when specific questions came up. You were always there to guide us along in the process."
Naydine & Bob, Novato, CA
"This is a small token of thanks to you for the years of care towards South Whidbey Assembly of God and Langley Christian School. We have benefited from your generosity & care of our heating needs. Thank you, thank you, thank you!"
Matt, Langley, WA
"Very happy to say we chose Janes Radiant Heating to install radiant floor heat in our home. We are 100% satisfied with the work done and experience that we had with the staff."
The Larsons, Mercer Island
"Thanks to Janes Radiant Heating for working hard so that we can enjoy our wonderful new kitchen floors!"
Dianne, Bothell, WA
"Thanks to Janes Radiant Heating for helping us find the perfect installation kit and answering our questions along the way!"
Kim, Bellevue, WA
"The guys at Janes Radiant Heating know what they're doing and they do it well! We knew nothing about radiant heat coming into this process and Janes Radiant Heating helped us successfully install our own bathroom floors with the right kit and technical support we needed."
Dennis, Edmonds, WA
"Our expectations have been surpassed and we hope to be able to do more radiant heat projects in the future!"
Tracy, Portland, OR
"There really is something to be said about working with a family owned company with so much local experience. Janes Radiant Heating is a great team."
Craig, Burien, WA
"Janes Radiant Heating was so helpful, careful, etc. and the employees love working there. I'm so grateful for your help and don't know how to thank you!"
Sherri, Lynnwood, WA
"Everyone at Janes Radiant Heating has a vision for a great customer experience. So from the front desk to the sales team, to the installers, everyone works together to provide quality service to each and every client."
Jeremy, Bellevue, WA