Radiant Heat Installation Services
Puget Sound Area Radiant Flooring Contractors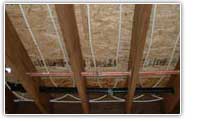 You can take a vacation when Janes Radiant Heating is installing your new heating system, and you don't need to worry! The way we bid on your radiant heating system, everything – including the design, installation, materials and labor – is included. And we handle all of it seamlessly.
Our team of installers and technicians are all factory-trained, with many years of on-the-job on-site experience. They are knowledgeable and experienced in working with homeowners, as well as with builders and contractors. Our installation process is truly so refined, it's no surprise that other radiant heating contractors can't even compare to the service and expertise Janes Radiant Heating provides. This is what has made us your Puget sound area radiant heat installation experts for over 20 years.
Our team of specialized factory trained installers and technicians will keep even the most demanding projects on-time. With our personalized designs we can ensure that your installation is what you want, when you want it.
Installation is usually done in several phases:
Some items are roughed-in
Tubing is installed
Gypcrete or concrete is poured over the top
Boiler and mechanical system is installed