Outdoor Radiant Solutions: Snow Melt
Radiant Heat Warms Icy Paths – Enjoy Snow and Ice Free Driveways All Year Around!

Why heat just the indoors when you can put heat to good use outdoors as well? A snow melt system designed and installed by Janes Radiant Heating works wonders melting snow in traffic areas, keeping them safe. The system is installed underneath the surface and radiates heat to melt snow and ice from driveways, walkways, stairs, building entrances, loading docks, hospital emergency entrances, wheelchair access ramps, parking ramps & parking lots and other areas where safe, clean and easy access is desired.
The benefits of a snow melt system are that they provide safety, reduced maintenance, and increased pavement life. With the weather conditions that we sometimes see in the Pacific Northwest, Puget sound area residents and businesses from Tacoma to Everett have relied on Janes Radiant Heating to keep important outdoor areas easily accessible and hazzard free with outdoor radiant heating.
How does the snow melt system work?
It circulates warm fluid through PEX tubing buried in concrete, asphalt or a sand bed. The fluid heats the slab, which in turn melts the snow and ice. The system uses an on/off switch or can be programmed to function automatically to control the system.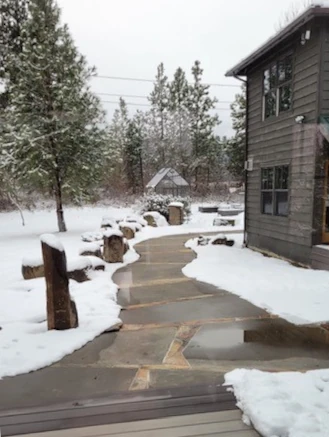 "Back in September 2021 I ordered a radiant heating package from Janes. My purpose was to heat my new concrete walkway being poured at my home in Cle Elum WA.
Bob personally delivered my package to my home.
I spent the next two and a half months being frustrated with a local Cle Elum contractor who continually promised to finish the install and conduct the initial start up of the boiler.
At my wits' end I called Bob again and 2 days later he had his key guy Shawn drive over Snoqualmie pass to complete the install.
I should have stuck with Bob to begin with, but I thought a local contractor would be more available, wrong!!
Bob came in and made it happen and now 2 weeks before Christmas I have my walkway completely free of frost snow and ice.
I can highly recommend Janes Radiant Heating."
Brian P.