About Infloor Radiant Heat
The Ultimate Heating Solution
At Janes Radiant Heating, we truly believe that radiant heat is the ultimate heating solution. But that's not enough for us; we want to offer the best in radiant heat. That's why we're proud to be the largest installer of InFloor Heating Systems in Washington. Our team works hard to made sure we are your experts in the Puget sound area and beyond.
It Radiates All Around You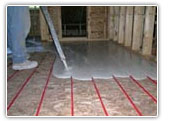 You can't see it but you know it's there. Radiant floor heat is a system of tubing that is installed out of view, underneath the floor of your home or building. Hot water silently runs through these tubes to heat the room, literally from the ground up. The heat from the water radiates warmth.
What's different about radiant heat is objects are heated, not air, like traditional heating systems. So the warmth stays where you are and doesn't rise to the ceiling out of comfort range. Your "space" is more evenly warmed, without the fluctuating hot and cold spots of traditional gas or electric forced air heating systems.
The comfort of in-floor heating is always with you, so even and consistent that you'll forget it's there.
Top Benefits of In-Floor Heating
Best Warmth
Radiant heating has been proven to be the most comfortable heating solution available.
Best Investment
Radiant in-floor heat is the most energy efficient option in heating systems.
Invisible
The radiant heating system is hidden under the floor, but the warmth of its invisible heat is very present.
It Radiates
The comfort of in-floor heating radiates with warmth to the core of your body.